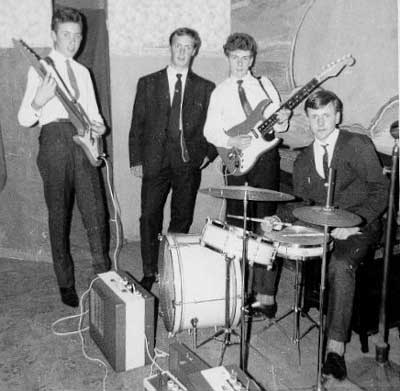 The Creators, were originally called The Warwicks, after the school in Walthamstow, East London,where class mates, Geoff Gibbs (rhythm guitar), Ray "Jasper" Drake (lead guitar), and Mick Eden (drums),first heard Apache by The Shadows back in 1962, and decided to form a band just like them, with Geoff and Ray making their first guitars in the school's woodwork room.

Local friend, Les Parson, joined as vocalist, and within a few weeks, played their first gig at Walthamstow Trades & Labour Club, earning 10 shillings each! This seemed the start of the big time, and soon with added bass player, Ron Biggs, were playing regular pub gigs, at the Lion and Key, and Cowley Arms in Leytonstone. (Whilst still at school)!

The name was later changed to The Creators, to shake off the "schoolboy" image. Les Parson shortly left, and another local singer, Bob Newley, who had been in bands in Germany took his place, and gave the band a big boost, playing bigger halls, as well as getting into the heats for Ready, Steady, Win, a nationwide TV talent show.

However, Bob later teamed up with his old guitarist from the Andy Nevison Band, and went back to Germany taking Mick and Ron with him.