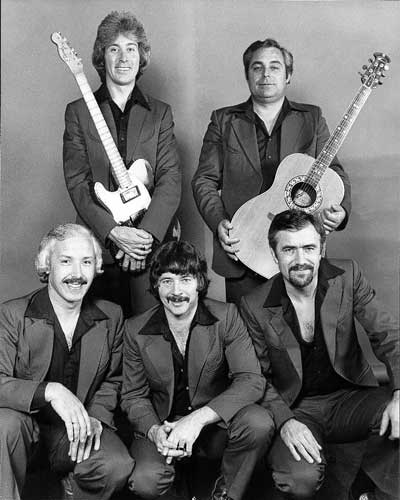 L-R Derek, Geoff, Jim, Terry, Tony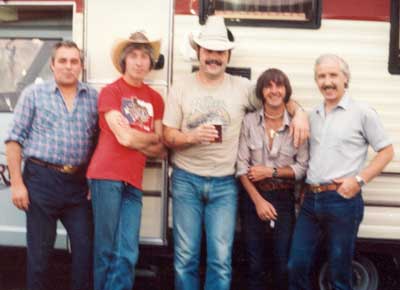 L-R, Terry, Geoff, Slim, Dave, Derek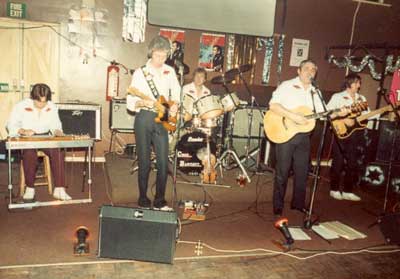 L-R, Steve, Geoff, Chas, Terry, Dave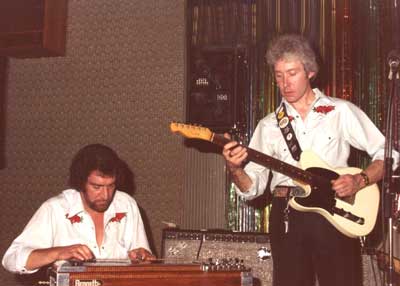 L-R, Pete and Geoff
The HOBO story began a long time ago, the late sixties, in fact three of the original members are still together, TERRY WHITE, the lead singer, JIM FRIEL on bass, and DEREK WYATT the drummer. Only two lead guitarists and steel players have passed through the band in the last ten years. Very few bands could even boast of existing half that long.

Lead guitarist, GEOFF GIBBS joined the band early in 1982. Like all prominent guitar players in the British Country Scene, GEOFF has done the rounds, a pro with the SADDLETRAMPS, then on to Tom Fricker's THOMAHAWK and later he formed his own band TRUCKSTOP.

Steel guitarist, TONY RYAN joined the band three years ago when BRIAN JAMES suffered a tragic heart problem (which I am pleased to add is almost back to normal). TONY came down the traditional road of Country Music, starting with COUNTRY COUSINS in 1964 (now KENTUCKY COUNTY) in which he played bass. He later joined THE MOONSHINERS with JAN HOLLY, PAUL MITCHELL and EDDIE DAWSON with our old friend ERIC BUNYAN on fiddle. He now plays a twin neck Sho-Bud through a Peavey400 session. The L.P. "On The Road Again" is really out selling all expectations. A new L.P. is planned soon which will include some self-penned numbers.

The above is up to date information supplied with the latest photograph. It is rather nice to have HOBO on our 4th birthday front cover as this band has been a friend of the magazine for a very long time. In fact they were featured on the front cover in February I960. To quote from my feature at that time :

Bass player, JIM FRIEL started his career in the skiffle era playing in an Irish dance hall in the Gorbals of Glasgow, held of all places in a synagogue. He moved to the quieter atmosphere of London and joined a band called the MINI MOB, a three piece outfit playing Irish country music. At that time he played rhythm guitar, but he learnt bass and left to join THE DETOURS as bass player, which is where he met DEREK.

Drummer, DEREK WYATT came into music seventeen years ago. He went to drum school for about 18 months and then joined the Youth Club band. From there he formed a, band called TEEN BEAT, playing pop music. When that band folded he had a year off from music and then returned to the scene in his first country band THE DETOURS. JIM and DEREK went on to join the DETROIT SHOWBAND and during that time played The Tennessee Club then known as The Tower Ballroom. DEREK left and joined COUNTRY TIME which was where he met TERRY.

Lead vocalist, TERRY WHITE was another who started his singing career in the skiffle era with a band called THE TRAVELLERS, contemporaries of WALLY WHYTON and THE VIPERS. As the skiffle era moved out and rock 'n roll moved in, TERRY moved with it, singing with a rock band. Then the country boom started. He joined COUNTRY TIME where he met RAY KING the lead guitarist, who has done a great deal for country music in Britain. COUNTRY TIME split up and TERRY with DEREK and JIM formed MULESKINNERS, with PETE on lead guitar.TERRY left and joined SADDLETRAMPS with GEOFF GIBBS, touring American Air bases and appearing with the likes of Hank Snow, Dottie West and Faron Young. Being only a semi professional, he found it all a bit much and gave up. He spent a time compering in the Nashville Rooms along with Terry Edwards and Tex Withers. JIM, DEREK and PETE meanwhile had formed a band called SAN REMO, and asked TERRY if he would join them. His P.A. equipment had been sold when he left SADDLETRAMPS some time before, so the lads lent him some until he could get his own. When PETE left the band, the name was changed to HOBO.

(The above article from 'Southern Country' magazine, March 1983)

Guitarist, JOHN SHORT replaced PETE GRIFFIN, and with the line up of TERRY, JOHN, TONY, JIM, AND DEREK, recorded the "On The Road Again" album.

JOHN later emigrated to Australia. and was replaced by GEOFF GIBBS in early 1982.

The band later saw several changes, with TONY, JIM and DEREK leaving for personal reasons. They were replaced by DAVE BARON on bass, CHAS BARTLETT on drums, and various steelies including LES HILL, STEVE COLLINS, SLIM PICKINS, JIMMY GIBSON, and later, PETE WILLSHER. GEOFF later left to be replaced by ALEX CHANTER.

The band continued under TERRY'S leadership until finally disbanding. The last line up with TERRY was: drums - BOB PAYNE, bass - DAVE BARON, lead - ALLAN BRINICOMBE, and steel - BRYAN JAMES. Not the original BRIAN JAMES, who had a triple byepass in 79 and passed on in 85, this Brian came from Beckingham Kent, and joined HOBO via Lee Ivy when he broke up. Allan Brinicombe came from Tony Collins and Bakersfield, and before that, many years with Ellie Scott.