rick hardy

1933 - 2006

A story from early skiffle days thru The 2i's coffee bar, early Hamburg, to present day cockney entertainer.
or
"My place in the history of British Rock".
*** Newsflash ***
It is with great sadness to announce that Rick was killed late sunday night, 10th December 2006, by a suspected drunk driver.

Full details here.
Rick's funeral and a celebration of his life was held at Mortlake Crematorium on Wednesday 3rd of January at 2.30pm.
A crowded chapel/ceremony hall heard heartfelt valediction and tribute from Chas McDevitt and John Hills, as well as past favourite recordings of Rick.
Rick's family and friends went on to remember Rick with informal jam sessions at The Brewery Tap, Brentford, one of Rick's favourite venues.
Some pics below
The book of condolencies has now been closed for the same reason Rick decided to close his guestbook - STUPID BLOODY SPAMMERS!
Please feel to read existing messages.
View Book.
*** Newsflash ***
The 100 Club in Oxford Street in London's West End has been booked for a bumper show to celebrate the 50th anniverary of the opening of the 2i's coffee bar. The club has been booked from 4pm to 11pm on Sunday the 28th of January 2007. Artistes (amongst others) who have already agreed to appear are Terry Dene, Wee Willie Harris, Buddy Britten, Russ Sainty, Chas McDevitt, Vince Eager and my humble self! Musicians of the calibre of guitarist Big Jim Sullivan, bassist Tex Makins and drummers Bobby Woodman and Clem Cattini (leader of the Tornadoes) will also be appearing. Negotiations are ongoing for more artistes and musicians and some big surprises will be in store. The price of tickets will be £22 if booked in advance and £25 on the door. My hunch is that it will be sold out well in advance of the 28th of January. The show will feature both Rock and Roll and skiffle as the 2i's did and will be performed mainly by original 2i's artistes. For further details please contact Keith Woods, Telephone/Fax 020 8460 6941, Mobile 07941 540574, Email TFTW@blueyonder.co.uk or contact through the website at http://www.tftw.freeuk.com/ or write to Keith Woods at 25 Queen Anne Avenue, Bromley, Kent, BR2 0SA

2I's plaque
On the 18th Sept. 2006, a plaque was at last unveiled on the site of the 'ancestral home' of so many of us, - the 2i's Coffee Bar in Old Compton Street, Soho. 1). Just a section of the crowd at the unveiling. How many can you recognise? 2). Myself with Sir Cliff with whom I played on his first visit there in 1958. 3) Myself with my old pal, Chas. McDevitt next to the plaque.
*** It has come to my attention that a professionally shot DVD has been prepared from coverage of this event. It covers extensively the artistes and performers present, including Cliff and the Shadows and their interaction with the crowds of fans and onlookers. For details and availability please email. enquiries@rushwoodvideo.co.uk ***

Fender presentation
Rick has been honoured by the International Fender Club by being presented with a Hank Marvin signature Strat for his part in the formation of The Shadows in 1958. Photo shows Rick at the Fender stand at the 2004 Wembley Guitar Show with Fender Club London chairman, John Brown. who instigated the presentation.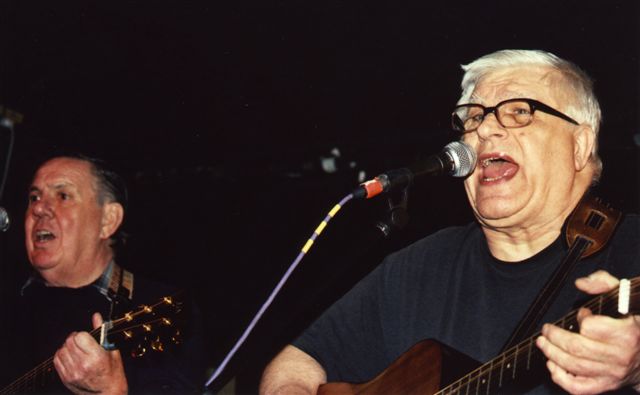 Still going strong!
Rick with 1950's sidekick Johnny d'Avensac performing at the 'Skiffle50' concert at the Water Rats theatre recently. The concert was to celebrate 50 years of skiffle and included notable performers like Wee Willie Harris, Vince Eager and a host of others. A full list can be found at http://www.skiffle50.co.uk
photo Paul Harris

I was born on the 17th. of October 1933 in Islington, London, which, although going by the ancient Post Office 'codes' is technically in North London, is actually nearer to the legendary Great Bell of Bow (which contrary to popular belief is in Bow church Cheapside, not the district of Bow) than anywhere in the East End. However whilst I was still young my family moved first to Edgware, and then later on to Watford in Hertfordshire.

I was first 'turned on' to music (and more specifically jazz) when at the age of eleven I was entranced by a record by Bob Crosby's Bobcats. Since then I have developed an interest in most forms of jazz - except for the most avant-garde forms.
Despite my interest in music, it was to be some two years after completing my National Service that I finally decided to buy a guitar in 1956. My first was a Hofner Senator, bought for 19 guineas from Selmers in Charing Cross Road, London, which after a couple of months was traded in for a pre-war Gibson costing the enormous sum of 35 guineas. After practising for up to eight hours a day, I joined a local Watford trad jazz band called the Colne Valley Stompers on rhythm guitar. Although we didn't do many paid gigs we had a lot of fun rehearsing.

As I was now singing (mostly the blues) with the guitar, I came to the notice of a skiffle group which asked me to join them. I had of course heard of skiffle, which was fast becoming a rage, but until this time I had no intention of getting involved. The promise however of regular gigs in and around London finally tempted me. After a month or two however the leader of the group (Johnny Morton) left and I was asked to take over the group, and so with my new professional name, the 'Rick Richards Skiffle Group' was born.

We quickly made a name for ourselves and reached the final of the National Skiffle Contest at the Hammersmith Palais. We also became the only group to hold a weekly residency at the famed 'Skiffle Cellar' in Greek Street , Soho. Sadly after just a few months my right hand man in the group, Johnny d'Avensac, got called up as a paratrooper and the group disbanded. We did however make some recordings that were not released at the time, but which are now available on CD. I started guesting at the Skiffle Cellar's rival, the 2.I's Coffee Bar, just around the corner in Old Compton Street, and soon afterwards was asked to join the resident group there "The Worried Men", as a replacement for Adam Faith, who had left to go solo.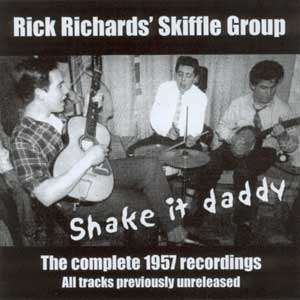 Left to right Johnny d'Avensac, Tex Makins(obscured), Bill Large, Rick Richards (Hardy)
Just after I accepted the offer to join the Worried Men, a young singer by the name of Harry Webb came down the narrow steps of the 2.I's and asked if he could sing. He had two musicians with him, a drummer and a guitarist, and he called his group 'The Drifters'. As I had an amplified guitar and the 'Drifters' didn't, I was roped in to play with the group. I played with them on a couple of occasions at the 2.I's, and helped them out on a talent competition at the old Trocadero cinema in the Elephant and Castle district of South London. After this Harry Webb asked me to join his group, which I declined as I had already accepted the job with the "Worried Men". It was probably the worst decision I've ever made in my life. Harry Webb was of course to become Cliff Richard, and some weeks later the guitarist of the group who had by now switched to electric bass (Ian 'Sammy' Samwell) told me that Harry Webb had liked my name so much that he had adopted one as near to it as possible. Cliff signed a photo to me afterwards with the inscription 'To my pal Ricky. Sorry I pinched your name'. Although I had turned Cliff down, it was on my personal recommendation that Hank and Bruce were later to join his group, now renamed the "Shadows". Hank has recognized this by writing me a note thanking me for doing so. I've still got the note. I keep things like that!
Rick with Cliff, when he was Harry Webb,
and 'Nearly Famous'
Photo © Rick Hardy

Cliff & Rick, hamming it up,
Abbey Road Studios. (Living Doll recording session).
Photo © Rick Hardy
I remained as resident singer at the 2.I's for over a year whilst Cliff and the Shadows went on to somewhat bigger things. I brought in the bass player from my skiffle group, 'Tex' Makins (who later went on to play with the likes of Georgie Fame and Stevie Wonder) to play with the Worried Men, and gave drummer Tony Meehan his first ever job with us. When Tony Meehan eventually left to join the Shadows (via the Vipers), he was replaced by a young Brian Bennett. Early in 1959 I accepted an offer to become the resident singer in a club newly opened by the Anglo-American rocker Vince Taylor. It was in Berwick Street, Soho and was called the 'Top Ten'.
| | | |
| --- | --- | --- |
| "To my pal Ricky, sorry I pinched your name, Cliff" | | "To Ricky, thanks for getting me an audition with Cliff, Hank" |
I stayed at the Top Ten until June of 1959 when I was asked to join a rock group to Play at Butlins holiday camp in Filey, Yorkshire. The band was led by a Scottish singer by the name of Clay Nichols, but the best thing about the group from my point of view, was that we had on lead guitar the irrepressible Joe Brown, who gave up his job as a locomotive fireman to come with us. Before the season was out we'd lost Joe Brown to Jack Goode's 'Boy Meets Girl' TV show but we replaced him with Tony Harvey who later was to play with great success with Vince Taylor and Johnny Halliday in France. All in all a marvellous summer but sadly all things come to an end.
Rick with Johnny Cash, ATV Studios,
Manchester, early 1960.
Photo © Rick Hardy

I thought I looked pretty suave at the time.
Roy Orbison thought so too!
Germany, 1970
Photo © Rick Hardy
Back in Soho I resumed where I'd left off, as resident singer at the Top Ten club where I stayed until being asked by pianist Iain Hines to be part of The Jets, the first English rock band to play in Hamburg. Just before I left for Germany I had time to fit in a recording session at the Lansdowne studios with the Lonnie Donegan Skiffle group backing the singers Mickie and Griff for an LP. I took Donegan's place on rhythm guitar as he wanted to stay in the control room.

On the 4th of June 1960 myself, with four other rock musicians, embarked on a fabulous adventure. At the time it was just a chance to play overseas for better money than we were getting in England. We had no idea that as the first English rock band to play in Hamburg we were making rock and roll history. It should have been a six piece band but because Iain Hines didn't turn up at the railway station on the day, there were only five of us. These were: myself on rhythm guitar and vocals, Tony Sheridan on Lead guitar and vocals, Colin Melander, rhythm guitar and vocals, Peter Wharton on bass, and Jimmy Ward on piano, vocals, and drums.

We, as the Jets, were the group that pioneered the way for all those famous bands (including the Beatles) that honed their skills playing long hours in the exciting red light district of Hamburg. Although the Jets were only together for five months or so, and only ever played in Hamburg, all of us except for our bass player Pete had recording careers in Germany. To me fell the honour of being the first Hamburg rocker to make a record in Germany when I cut two sides for the Philips label on the 3rd of October 1960. Because these tracks were issued - with true German efficiency - under my passport name of Richard Hardy, this is when I changed my performing name to Rick Hardy. These sides were recently included on a German CD entitled 'Damals in Hamburg' (Once Upon a Time in Hamburg) for which I was invited back to Hamburg for the launch. I shall never forget those wonderful times, which included 'jamming' with the Beatles in the electric atmosphere of the Reeperbahn. For me Hamburg holds a fascination, as it does I should think for any musician who ever played there, and I try to visit the place every year for a reunion.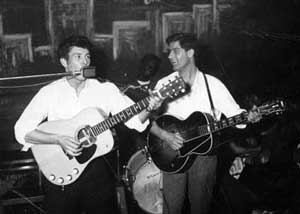 Tony Sheridan & Rick, (The Jets), Top Ten Club, Hamburg, July 1960.
Photo © Rick Hardy
After our five month stint in Hamburg the Jets broke up, and I managed to get a job in a package show based in Wiesbaden, working the American bases in Southern Germany. This was to be my first experience of cabaret. The first job I did was something of a tryout. It was at a huge NCO club at the massive Rhine-Main airbase in Frankfurt, and as I had never worked cabaret before, I decided to make country and western music the mainstay of my act. The show was a big charity event with about twenty or so acts on the bill, and they shoved me somewhere in the middle. Although I was understandably nervous I needn't have been. I know it sounds big headed of me I but stole the show! I only did three songs but I got a standing ovation and had to do several encores. Naturally I was exhilarated and the man who had brought me down from Hamburg was well pleased. He quickly fixed me up with another show for which I was to be paid. I had no qualms now about working cabaret and I was looking forward to another enthusiastic reception. It seemed to me I had just what these G.I.s were looking for. I was about to be taught a lesson in humility!
I had heard about racialism in America but now I was to be on the receiving end of it. My next show was not in an NCO club, it was in a club for bottom of the pile enlisted men. It didn't worry me at all to see that the great majority of the audience were black. I'd never had trouble with black people in my life before and I couldn't envisage any now. The problem was no-one had told me that black Americans hated country music. To them it was the music of the despised Southern Rednecks, and so when I opened up with Don Gibsons 'Oh Lonesome Me' it was met with howls of derision. Talk about lonesome. I just wished that the stage would open and swallow me up! I did a very short show that evening and very quickly worked on a new act that was based on comedy. I still continued to include country music when the audience was predominantly white (such as NCO or officers clubs) but steered well clear of it in the EM clubs.
During the next ten years or so I performed almost exclusively for American servicemen, which took me all around the world from my base in Germany. I worked all over Europe, North Africa, Greece Turkey, Okinawa, Japan, Taiwan, Thailand and dozens of other countries large and small. I worked with all sorts of acts. Famous ones like Roy Orbison, Tex Ritter, Matt Munro, Ben E. King, Rufus Thomas, Carla Thomas, Maynard Ferguson, Roy Acuff, Eartha Kitt etc, etc. And oh yes, even Wilson Kepple and Betty!

On a tour of the Far East in the summer of 1968, whilst performing at the Lido night club in Bangkok, Thailand, I was seen by the host of the Ford Cortina radio show - Mr Kula Chart - performing a Thai song which I had learned in their language. This led to my broadcasting and singing in Thai and a meeting with the composer of the song, a lady called Porn Piroon, who arranged for me to record it, together with another she had composed. For the recording session I wrote English lyrics for the songs and shortly after making the record returned to Europe. Although the record company promised to send me the disc on its release they never did. Now, after spending nearly half my life trying to obtain a copy, I have, with the help of Henri Smeets of Holland, Mr. Chai Komlertkul and Mr. Rachain Jumsai Na Ayudhya of Thailand, and of course the Internet, I have at last got one - complete with its splendid sleeve. (See below)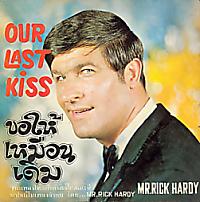 It is known that the track 'Our Last Kiss' was also issued on a compilation LP shortly after the above single. Can anyone help me to obtain it?
Instead of returning to Germany after my trip to the Far East, I decided to go back to England. I had been married since 1963 and my kids were approaching school age. I gave up the business for a while and trained as a watchmaker, but with the advent of quartz technology I decided to return to show business. My old act was of no use to English audiences and so I decided to go back to my London roots and developed a cockney routine (around 1975) which I still perform today. I have performed my act on TV and in theatres, clubs and hotels all over England. I have as well had many small acting roles on TV and in films. Most notably for film buffs, I am the Pearly King in the cult movie 'Trainspotting'! (I hear you muttering "big deal")!

During my time in Soho in the 1950's I spent a lot of time photographing musicians and singers. For over 30 years I kept the results packed away in boxes, unseen and unused. I was finally persuaded to get them out, and now it is a rarity when a book about rock and roll, or life in London in the fifties doesn't include a selection of them.
---
Meeting up with some old friends
Bottom three photos
Guest of honour with Licorice Locking at the 44th International Cliff & Shadows Meeting
Holland. April, 2004
My special thanks to Joop and Jolanda Moen for a great three days

photos © courtesy of Angélique von Söhsten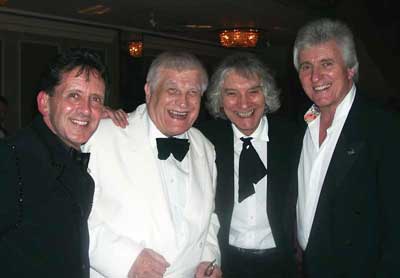 Still hobnobbin'. At the Grosvenor Hotel on the 28th November 2004.
Left to right. Frank Allen (The Searchers), Yours truly, Albert Lee (Guitar Superstar) and Bruce Welch of The Shadows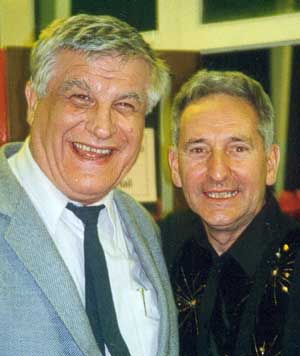 Lonnie Donegan R.I.P.
1931-2002
The biggest single influence on pop music
in Britain
Photo courtesy Chas McDevitt
---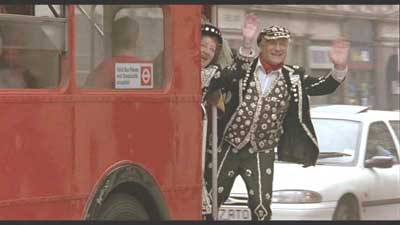 A scene from the film 'Trainspotting' captured off screen by my friend Henri Smeets

AN APPEAL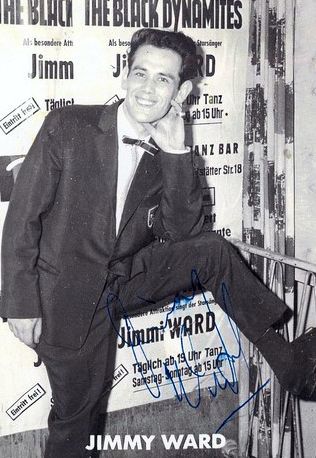 In 1960 James Macken aka Jimmy Ward (born Dublin Ireland on the 23rd Nov. 1938) went to Hamburg as part of the group THE JETS. When the Jets broke up Jimmy started working with Dutch Indo-rock bands, finally forming his own successful Indo-rock band 'Jimmy Ward and the Tropicals'. It is thought that the Tropicals disbanded in April 1970 and Jimmy was seen later that year in Munich working in a club as a disc jockey. His whereabouts since that date are unknown, but the German authorities in Munich say that he left for Ireland. It is known that he was in poor health at the time and it may be that he returned to his family in Dublin. His many friends and fellow musicians are anxious to know what became of him and would welcome any information anyone has. If you can help, would you kindly leave a message in my guest book, or phone me at 0044(0)20 8428 0744.
---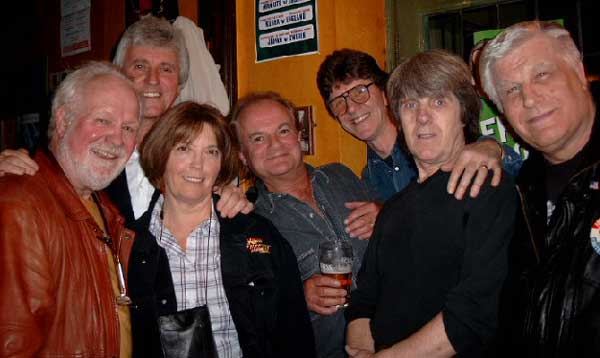 How many names from the past can you identify in the above photo?
Answers on the 'Looking Back' page. Click below

During the 2.I's era, I took hundreds of photographs of fellow artistes and musicians,
many of which have been published (© Rick Hardy)
I shall change these frequently, so keep checking back to see who's here!
Click here to view!

Click here to view my 'rock' family tree

Guestbook
Whether you wish to comment on this web site, make a suggestion or ask me a question,
feel free to do so. If you ever visited the 2.I's Coffee Bar or the Top Ten Club in Soho (or Hamburg!)
and wish to find a long lost friend from those days, please make use of this guest book. Good luck.

Recordings by Rick Hardy
Wembley,
(and Trio), Recording Studio, London. 1957

"Shake it Daddy" 12 Track CD of the "Rick Richards Skiffle Group" comprising previously unissued recordings from 1957.

CD LUJ 1
---
Hamburg. October 1960.

"OK Madam" b/w "Tanz Mit Mir Dixie"

PHILIPS records. 45 rpm. Cat. No. 345 262 PF
No longer available.  Both tracks reissued on Bear Family CD 'Damals in Hamburg' BCD 16284 (See under)

---
Bangkok August 1968.

"Kaw Hai Muen Derm" (Our Last Kiss) b/w "On The Beach"

ST Records (Bangkok) 45rpm.
Cat. No. ATP 3632-1 on side 1, & Cat. No. ATP 3633-1 on side 2.
The record sleeve carries this inscription,
"Mr. Satit Khonkoo presents an English version by Mr. Rick Hardy from England, an international performer, who visited Thailand for 3 weeks and honoured us with his translation and also gave his rendition of the songs which were written in Thai by Porn Piroon"
---
Vineyard Studios, London 1979.

"Sling Yer 'ook" b/w "The Befnal Green Cow'and"

BLACKTOP Records. 45 rpm. Cat. No. A.A.1
No longer available.  New versions of both tracks on CD LUJ2 (See under)
---
East End of London. 9th. September 1981.

"Live at the Bunhouse" Four original songs, (engineered by Geoff Gibbs.)

PONY AND TRAP Records. EP 45rpm. Cat. No. P&T RH1.
No longer available. All tracks re-issued on CD LUJ2 (See under)
---
"Cockney Favourites" CD of Cockney Music Hall Songs plus a few originals.

HALLMARK (Carlton) Records. Cat. No. 308902
---
Hamburg 1999

"Damals in Hamburg" (Once upon a Time in Hamburg)

28 track CD which includes the Philips tracks of Rick Hardy plus other Hamburg rockers, notably The Beatles and Tony Sheridan.
Bear Family Records. CD. Cat. No. BCD 16284 AR. Only obtainable in England from Rollercoaster records Tel. 01453 886252.
---
"Sling Yer 'ook" CD of 14 original Rick Hardy songs. Includes new versions of "Sling Yer 'ook" and "The Befnal Green Cow'and" plus the four tracks on P&T RH1.

CD. LUJ 2.
---
"The Best of Skiffle" 3 CD box set of the top skiffle recordings. Included is the track 'Steaming Down The Line'
by The Rick Richards Skiffle Group. This is an alternate take from that on CD LUJ1.

"DISKY" CB 793762
To find out which of these recordings are still available, and how to obtain them, please go to http://www.musicroots.co.uk
---
---
web page construction - http://www.geoffgibbs.co.uk